University of South Florida
How to Apply
Please contact your Education Abroad advisor before applying in order to discuss all available options.
Deadlines
Applicants should check with the individual program website for program-specific deadlines. Deadlines can be as much as 5-6 months prior to the program date. Please note that non-USF providers of study abroad programming may have much earlier deadlines. Generally, summer program applications are accepted on a rolling basis, however, there again students may find that certain programs have specific acceptance deadlines. Students are urged to apply early!
Please note the following deadlines associated with Education Abroad Administered Scholarships and USF Semester Exchange programs:
Semester Exchange Deadlines:
FALL Semester Exchange - February 15
SPRING Semester Exchange - September 15
USF Education Abroad Administered Deadlines:
Summer Scholarship Deadline – February 15
Fall Scholarship Deadline – June 15
Spring Scholarship Deadline – November 1
---
Before you apply:
Current USF Students
In order to begin the Education Abroad application process you will need to know your Net ID login and have access to your USF email account. You can verify the operation of both by logging in to http://my.usf.edu
Choose the program you wish to apply to from the Available Programs
Click 'Apply Now'
When asked if you are a student with activated NetID login credentials, answer 'Yes'
Login using your USF Net ID and continue the application process as instructed
Non-USF Students
Non-USF applicants who wish to participate in an Education Abroad outgoing program must first be accepted as a non-degree seeking student at USF. To apply as a non-degree seeking student, you must read the notes below and then complete the online application through the Office of The Registrar using the link that follows.
IMPORTANT:
1) For the "Level" and "Intended program of study" questions, you must select "Non-degree" as your student type.
2) When you are asked to select a campus, select "USF Tampa".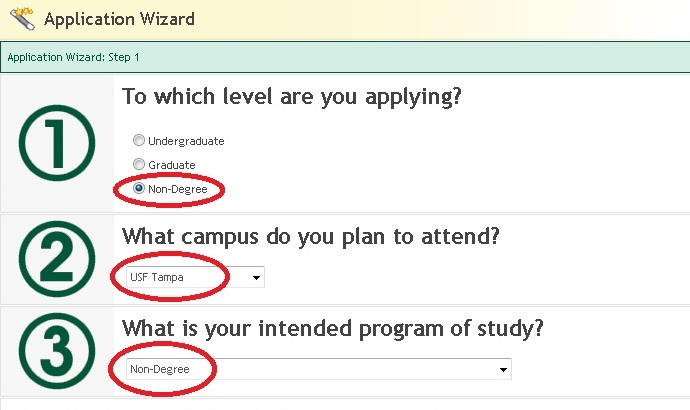 Later in the process, when you are prompted to select a term, be sure to select the term you wish to go abroad. For example, if you wish to go abroad as part of a Fall program, be sure to select the Fall term.

Online Application Link
The University of South Florida has a $30 application fee that must be paid prior to acceptance. This fee does not guarantee placement in a study abroad program, just non-degree seeking student standing at the University.
After your application has been accepted, you will receive notification via email within 24-48 hours which will include information about how to activate your account. At that point, you will be able to go to https://netid.usf.edu/una/ and click "Activate your USF NetID" in order to go through the activation process.
After you have activated your NetID, you may return to the Education Abroad website and apply to an Education Abroad outgoing program using the steps listed above for Current USF Students.
Important: You will need to wait until 6am the day after your USF non-degree student standing has been confirmed before you can login to the Education Abroad application system. If you still experience login issues after waiting a day, please contact the Education Abroad Office directly.
---
Completing Your Application
Once you have created the initial program application, you will be logged into the Education Abroad application system and presented with the Program Application Page of the program to which you just applied. The Program Application Page shows all of the requirements for the phases of the application (Pre-Decision, Post-Decision, While Abroad, Returnee).

Carefully read and complete each requirement as instructed. Unless otherwise stated, each requirement is mandatory in order to move on to the next phase of the application.

To return to the application at anytime you can login to the Education Abroad application system by clicking on the NET ID Login link on the top of the Education Abroad website.
Pre-Decision Phase
The pre-decision phase is the first step of your application to the Education Abroad program. Your application will not be considered for review until all requirements of the pre-decision phase have been met. Upon completion, the advisor of the program will be notified. Depending on the decision date of the program, you may be notified of acceptance immediately.
Post-Decision Phase
The post-decision phase comes after your acceptance to the program. When you reach the post-decision phase, you will be presented with new requirements and a commitment button. Carefully read the commitment instructions and commit to the program. You will have 5 days or until the application deadline to commit or your application will be withdrawn. Again, carefully read and submit each requirement as instructed. Failure to complete each requirement will prevent you from being permitted to participate; however, you will still be liable for program costs.
While Abroad Phase
Your application will move to the "while abroad" phase on the start date of your program. Please review any new requirements and complete them as instructed. You may also be presented with a link to submit Side Trip details or Incident Reports. In addition, a journal function may become available for you to record and share your experience abroad.
Returnee Phase
The returnee phase takes affect after the end date of your program. Please review any new requirements and complete them as instructed.