University of South Florida
This page is the brochure for your selected program. You can view the provided information for this program on this page and click on the available buttons for additional options.
Tianjin, China
(Exchange Program) (Outgoing Program)
Featured:
Program Terms:
Fall,
Year (Fall - Spring)

There are currently no active application cycles for this program.
Nankai University
USF Exchange Program


40 Weeks: Sep. - June (2 semesters)
---
Program Overview
Semester exchange programs allow students the opportunity to earn USF college credit from a diverse set of subjects abroad, while still paying an equivalent to USF cost. Students are enrolled abroad and take classes, live, and socialize with local and other international students, gaining a truly enriching experience and in-depth cultural immersion for one to two semesters.
Exchange programs are the most competitive and students are encouraged to begin the application process early to better focus on their personal statement and gather the needed recommendations.
---
Location
Tianjin, China
Tianjin is one of the four municipalities in China. Its name means 'the place where the emperor crossed the river'. In recent years Tianjin has received more and more attention from both tourists at home and abroad due to its numerous travel resources and rich history.
It is no exaggeration to say that Tianjin bears a splendid historical background. However, it was desecrated by foreign invaders long before the foundation of People's Republic of China. Tianjin was shared by nine countries: Italy, Germany, France, Russia, Great Britain, Austria, Japan and Belgium. This marked an extremely hard period for Tianjin and her people because those imperialist countries left permanent marks in her body, most notable of which were thousands of villas. Today those villas provide an exotic flavor to Tianjin, enhancing the beauty of the entire city. Blessed with variety of tourist attractions, Tianjin is a good place to explore. The top ten attractions in Tianjin, known as Jinmen Shijing, are Gu Wenhua Jie, Dagu Emplacement, Huangyaguan Great Wall, Dule Temple, Haihe River, Water Park, Panshan Mountain, Hotel Street and Food Street, Tianjin TV & Radio Tower and Zhonghuan Cailian. There are also many natural scenes of beauty as well as great historical events.
Getting in and out of the city is convenient because of the well-planned transportation system. If you want to come by water, there are a series of international and domestic sea routes in the port of Tianjin, which is the biggest man-made port in China. If you plan to arrive by air, Tianjin Binhai International Airport offers excellent service. Planes have routes that reach most of the major cities in China and also cities in Europe and America. Of course, arriving in Tianjin by land is another option, while trains or long-distance buses are yet another alternative.
---
Host Institution
Nankai University is a public university in Tianjin, P.R. China that was founded in 1919 by Zhang Boling, a patriotic educationist. Nankai, as of the end of 2006, has 18 colleges and schools, and offers 71 bachelor's degree programs, 206 master's degree programs, and 117 Ph.D. programs. Nankai's mathematics, chemistry, history, business and economics programs are among the best in China. The total enrollment stood at approximately 12,000 undergraduate students and 9000 graduate students. Nowadays, Nankai is among the top ten universities in China.
---
Academic Program and Course Information
Students attending Nankai University will be tested for Chinese language ability and then placed in intensive grammar, reading / writing, and conversation courses.
Students fluent in Chinese may take courses from Nankai's other departments.
Please see their website for more inforatmion: http://222.30.32.3/apps/xksc/index.asp
---
Program Costs
The Nankai program is a flat cost with includes housing in student accomodations (with a Chinese roommate), courses, a meal stipend and books. Out-of-State and International students pay the same rate for the purposes of study abroad programs.

Not included in this cost:
Airfare
Additional travel or medical insurance
Any transportation fees
Passport and Visa fees
Any additional or personal expenses
In addition, students are expected to pay Emergency medical insurance in the amount of $50/month.
---
Living Arrangements
Students are housed with a Nankai student in the university dorms.
---
Who Can Participate?
Students must be at least of sophomore standing when they attend, but may apply as freshman.
Graduating seniors may not participate in their last semester as program dates and processing time would delay their intended graduation.
All majors are welcomed.
A 2.5 GPA minimum is considered competitive for consideration.
---
Getting There
Students are asked to not purchase any tickets until they receive an acceptance letter from the host school overseas. This letter will have details on orientation dates and arrival airports.
Students are responsible for arranging their own flights and transportation to the host school.
---
Medical Insurance and Travel Documentation
USF provides program participants with sickness/accident and emergency medical evacuation insurance valid for the dates of the program. Those who will travel independently, either in advance of the program or after the program ends, must ensure that they have insurance coverage valid outside the U.S.
Every program participant MUST have a passport, valid six months from the date of travel. Students are responsible for their own immigration documents.
---
Safety & Health
Participant's safety and wellbeing are paramount to USF. Because of the added stresses associated with operating in a foreign culture and language, even the safest foreign locations are likely to carry more risk to your safety and health. For this reason it is vital that you learn as much about the places you will be traveling to as possible; the more you are familiar with the host country's geography, culture and language, the safer you will be. All participants will be required to attend a general study abroad orientation as well as program-specific orientations. In addition to these sessions, you should consult the USF Safety website as well as the websites listed below that provide useful information regarding your host country, and preparation for your international travel.
Personal Safety:
Additional information will be provided to registered participants, but we encourage you to consult the following websites as soon as possible.
USF Education Abroad Safety Website

Country Specific Information: http://travel.state.gov/travel/cis_pa_tw/cis/cis_1089.html
Preparing for your trip: http://studentsabroad.state.gov/html-site/StudentAbroadHome.html
To gain a different perspective on safety, you may want to visit other countries Foreign Travel websites. As a point of comparison, we encourage you to see what these sites say about safety in U.S. cities:
Australian Ministry of Foreign Affairs: http://www.dfat.gov.au/geo/
Foreign Affairs and International Trade Canada: http://www.voyage.gc.ca/countries_pays/menu-eng.asp#C
Scams
When visiting China, you should always take routine safety precautions and pay attention to your surroundings. Petty theft remains the most prevalent type of crime Westerners encounter. Pickpockets target tourists at sightseeing destinations, open-air markets, airports, and stores. Make sure you guard your wallet and passport; most incidents tend to involve items kept in back pockets, back packs, or bags/purses swung over a shoulder or set down in a restaurant or shop.
Narcotics-related crimes and use are also on the rise in China. Chinese law enforcement authorities have little tolerance for illegal drugs and periodically conduct widespread sweeps of bar and nightclub districts, targeting narcotics distributors and drug users. Expatriates from various countries, including dependents of diplomats, have been detained in such police actions.
Scam artists targeting tourists are also common in popular tourist sites. A common scam involves younger Chinese "English students," often women, who offer to show you around and then invite you to join them for tea at a nearby restaurant. When the bill comes, they leave, and the restaurant owners, usually very large men, force you to pay an exorbitant bill before you are allowed to leave the premises.
Health and Fitness Requirements
The majority of USF's study abroad programs involve a great deal of walking, and in some cases hiking and trekking. The USF in Tianjin program is a largely resident-based program. Nevertheless, students will be required to climb stairs, and walk a great deal, even if taking public transportation. If you have any concerns regarding your health (mental or physical), please consult your doctor, and the staff of Education Abroad prior to the program!
Information on vaccinations and other health precautions, such as safe food and water precautions and insect bite protection, may be obtained from the Centers for Disease Control and Preventions hotline for international travelers at 1-877-FYI-TRIP (1-877-394-8747) or via the CDC's Internet site at http://wwwn.cdc.gov/travel/default.aspx. For information about outbreaks of infectious diseases abroad, consult the World Health Organization (WHO) web site at http://www.who.int/en. Further health information for travelers is available at http://www.who.int/ith
Travel & Health Links:
• Travel Health Information from the Centers for Disease Control and Prevention
• Travel Health Information from the Food and Drug Administration
• Travel Health Information from the World Health Organization

Hillsborough County Health Department Travel Clinic Website: http://www.hillscountyhealth.org/new_website/immunizations.htm
---
Resources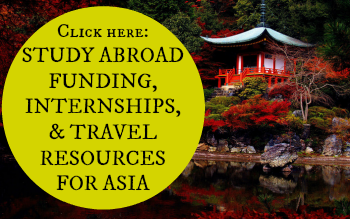 USF Bulls in Asia:
bullsinasia.wordpress.com
---
Contacts for More Information
Questions regarding study abroad, program enrollment, registration and payment of fees:

Rene Sanchez
Education Abroad Office, International Affairs (loc. CPR 468)
University of South Florida 4202 E. Fowler Ave., CGS 101
Tampa, Florida 33620-5550
Phone: (813) 974-4314 Fax: (813) 974-4613
email: rsanchez@iac.usf.edu