University of South Florida
This page is the brochure for your selected program. You can view the provided information for this program on this page and click on the available buttons for additional options.
Program Terms:
Summer

Eligibility:
Please see below for requirements.
Budget Sheets:
Summer

There are currently no active application cycles for this program.
---
Program Overview
The University of Exeter is a leading UK university located in the most beautiful part of Great Britain, an area which is popular with tourists for its warm, sunny climate, spectacular natural scenery and sandy beaches. The city of Exeter is an historic and vibrant cathedral city, just over two hours from London by train.

Please see the following link for a video about the University of Exeter: International Summer School Experience at the University of Exeter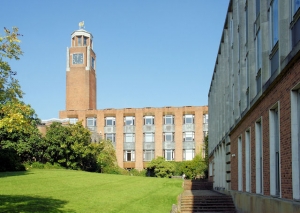 International Summer School

Saturday 20 July - Saturday 10 August 2013

In 2013 the University of Exeter will again welcome undergraduate and postgraduate students to study on credit rated pathways within our world class departments. A top ten UK University that is renowned for research-led teaching, the International Summer School at the University of Exeter offers students from around the world the opportunity to be inspired while enjoying one of the most beautiful areas in Great Britain.


In 2013, the eight academic pathways on offer are:


Global and Imperial History

Global and Imperial History provides you with a rich introduction to some of the most important developments in the creation of the modern world: the module encourages you to explore global patterns of change, contest, and the movement of ideas, goods and peoples via both original historical sources and the views of historians, and helps you to understand the emergence of modern societies and processes of globalisation by placing it in vital contexts: historical, cultural, and theoretical. Through this approach, you will have the opportunity to study both global developments as a whole, and local events during the last three centuries.

The module aims to encourage students to explore connections between ideas and experiences of colonial and post-colonial political, economic and cultural development and to explore these through detailed consideration of historical sources within taught sessions that benefit from the expertise of scholars from the College's department of History. Students will consider specific questions about the development of empires, the effects of slavery and forced migration, and the role of religion, and culture in bolstering and questioning imperial development, and the patterns of decolonization and globalization that have occurred since 1945. These will give insights into patterns of historical change, and dramatic illustrations of how the modern global system has emerged.


Global Climate Change: Environment, Technology and Society

This pathway, organised by the College of Engineering, Mathematics and Physical Sciences and the College of Life and Environmental Sciences, aims to give students a broad vision and perspective on Global Climate Change: its mechanisms, impacts upon society and the environment, emerging mitigation technologies, and adaptation strategies. Students will explore these issues in a multidisciplinary framework with lectures, workshops and practical exercises.

Seminars will be led by world-class researchers and experts in the fields of life sciences, engineering, mathematics, physical sciences and geography. These include Professor Peter Cox from Climate Systems Dynamics and Professor Tim Lenton - Chair in Climate Change/Earth Systems, amongst many others.

Topics covered over the three week course include:

•Causes and effects of climate change
•Social, health, economic and political impacts
•Environmental impacts and threat to ecosystem services
•Modelling and prediction
•Adaptation and mitigation of catastrophic events
•Management of water resources and rainfall changes
•Renewable energy technologies and policies for a low carbon society


International Management

With the rise in economic prowess of emerging economies and their multinational enterprises, coupled with the international dominance of some sectors by more established multinationals, we need to reassess the management and strategic challenges facing all firms whose activities span national boundaries.

Through this pathway we explore the interplay between multinational enterprise, the countries in which they do business, and the competitive environment in which they operate. Drawing upon aspects of corporate strategy, national and international politics, corporate and consumer ethics and managerial effectiveness, the pathway enables students to gain a systematic understanding of the current tensions and opportunities of managing across borders.

Learning is developed through integrating lectures, class discussion, and case study analysis with students able to apply their specific country knowledge to our deliberations, thereby enhancing our collective understanding of international management.


International Relations: Security, Conflict, and Peace

The International Relations pathway will provide you with the opportunity to engage with some of the most challenging and pertinent aspects of core theoretical and empirical debates in this discipline. You will explore evolution of Security, both as a concept and in practice. You will consider how various schools of thought contribute to understanding and interpreting International Relations. This exploration will be contextualised in efforts to address causes of recent and ongoing conflicts. It will address how sustainable peace might be built in regions such as the Balkans and the Middle East. You will also engage with the latest debates related to correlations between security, on the one hand, and intricacies of strategy; degradation of the environment; uncontrolled migration; lack of development; and health pandemics on the other. Teaching will be delivered by leading experts and it will adopt an interactive format of lectures and seminars.
Dr Afshin Shahi and Dr Klejda Mulaj are joint Academic Coordinators for the International Relations pathway.


Law

The Law pathway is designed to offer a unique introduction to some of the key aspects of English, European and International Law, an insight into British and European culture and thought, and an opportunity to reflect on some of the key themes in the current global agenda. Participants will have the opportunity to immerse themselves in the European legal systems i.e. the English common law system as well as the European Treaty based system, with special reference to human rights law and international concepts. Students will have the opportunity to contribute and to apply their newly acquired skills through interactive sessions in lectures, during mooting competitions, and in their written assessment.

Mooting competition

A moot competition is a simulated legal argument before an appellate court. Mooters must research the law relevant to the problem, prepare written submissions and present their argument orally to the moot judge. Moot problems may be about any area of law, but often focus on issues that are contentious or on developing areas of law. The benefits of mooting are manifold. Mooting affords participants the opportunity to develop their understanding of the law and improve their skills in legal research and analysis. Mooters learn to develop and defend legal arguments and to work closely with their teammates towards a common goal, in a way that serves to increase confidence and improve public speaking skills. Mooting allows for interaction between students and members of academic staff, practitioners and judges, in a rewarding environment.

The International Summer School mooting programme will involve lectures explaining the processes and procedures of mooting as well as interactive exercises so you can practice your mooting skills. Following the initial mooting training, you will have the opportunity to participate in a moot competition – practice is the best way to hone your mooting skills.


Physical Activity and the Environment: 21st Century Medicine

Physical Activity and the Environment: 21st Century Medicine offers an insight into preventive health, exercise and the environment. Drawing upon sustained research at Exeter, you will gain a deeper understanding of the science behind the interaction of physical activity and the environment on health across the lifespan. Topics will include physiological and psychological aspects of health and well being, natural and virtual environments and their impact on health. These topics will span the lifecycle from childhood, through adulthood and old age. You will be able to interact with internationally renowned and world-class researchers who have experience of working with health, physical activity and the environment. You will do so over a series of lectures, seminars and practical sessions in natural environments and have a chance to promote and practise 21st Century Medicine.


The Psychology of Crime

This pathway is aimed primarily at those undergraduates and graduates with a keen interest in human behaviour, and especially unusual, deviant and harmful classes of behaviour. Students with a background in psychology, neuroscience, medicine, sociology, criminology and related disciplines will be well prepared for this pathway. It is designed to provide students with an in-depth level of understanding of conceptions and social dynamics related to deviance and normality, cognitive and neurological mechanisms associated with risky and other deviant behaviours, social and biological factors associated with criminality and aspects of the criminal justice system.

The programme creates a challenge for students academically whilst providing students with the skills to apply theoretical concepts in real-world laboratory and field settings. Key skills are emphasised throughout the programme. This module is designed to increase students' understanding of issues related to deviance and criminality from a variety of perspectives: social, cognitive, biological and neurological. In this way, the module will support a sophisticated understanding of the complexities surrounding extreme and harmful human behaviour.
Dr Kim Peters and Professor Huw Williams are joint Academic Coordinators for The Psychology of Crime pathway.


Shakespeare and His World

Shakespeare and His World allows students to examine connections between Shakespeare's texts and their contexts. This will take place in taught sessions that benefit from the expertise of scholars from the departments of English, History and Drama. The pathway includes going to see a play at the world famous Globe Theatre in London. Students will attend sessions that relate to the play, as well as sessions that provide historical context for understanding Shakespeare's works. The former will include exploration of the play watched at The Globe. The latter sessions will enable students to explore early modern beliefs and situate Shakespeare's works alongside those of his contemporaries. Students will also participate in performance workshops. The module encourages students to engage with a rich and expansive approach to Shakespeare's drama. The plays being studied will be confirmed in early 2013.

There is also an extensive cultural and social programme including a visit to London and trips to iconic UK landmarks including Stonehenge and the Roman city of Bath. For more information please see Visits and social programme.

Return to top
---
Location
Exeter is the regional capital of South-West England. It is a place steeped in history, with its famous cathedral dating back to Norman times and historic quay (above). There are lots of things to see and do – Exeter has a number of museums, theatres and galleries and a wide range of restaurants, pubs, bars, cafes and night clubs – all within walking distance of the main campus.
"The city of Exeter, with a population of about 122,000 is a student-friendly city which combines modern life with a sense of the past. Cafes, restaurants, pubs and modern shops mix easily with historic buildings, including the Cathedral, which was consecrated in 1133 and rebuilt in the late medieval period, the Guildhall is the oldest civic working building in the country, Mol's coffee house and the Ship Inn, both favourite haunts of Sir Francis Drake and Sir Walter Raleigh. Exeter is consistently ranked one of the best places to live in the UK."
Exeter's Streatham Campus itself is recognised as one of the most beautiful in the UK. Based around a botanic garden, it has fantastic views to the surrounding countryside and is ideal for whiling away a few summer hours. It also has cafés, a bar and excellent sporting facilities.
The surrounding countryside is easily accessible, with plenty to offer. The beaches of Exmouth are only 15 minutes away by train, the wild landscape of Dartmoor is less than an hour away, or for those looking for the big city atmosphere, Bristol is only an hour away. If you are an adventure sport enthusiast there is a wealth of options for you to try on your free days, whether this be mountain biking, kayaking or hiking. We are happy to provide you with the information you need to make the most of your time here.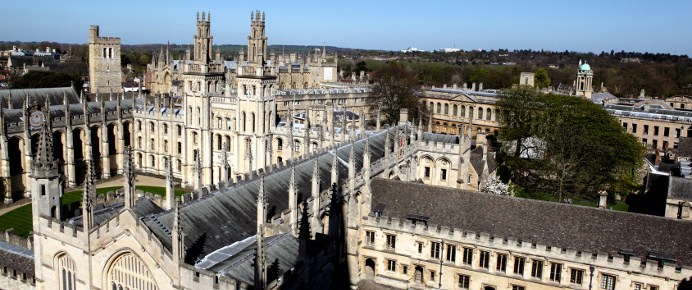 ---
Host Institution
The University of Exeter is a leading UK university located in the most beautiful part of Great Britain, an area which is popular with tourists for its warm, sunny climate, spectacular natural scenery and sandy beaches. The city of Exeter is an historic and vibrant cathedral city, just over two hours from London by train.
"The University of Exeter had just 19 students in its first intake in 1840, it is now one of the UK's most popular and successful universities with 17,000 students, of which just over 12,000 are undergraduates. Exeter is ranked in the Top 200 in the world in the 2010-11 Times Higher Education World University Rankings and has one of the highest National Student Survey rankings in the country, being in the top 10 since the survey began. Exeter has a lively, friendly and welcoming campus environment where there's always lots going on. Studying at Exeter is about more than getting an education, there is a wealth of opportunities open to students to develop personally as well as professionally."
www.exeter.ac.uk/international/students/studyabroad
Learn more by watching this video: http://www.exeter.ac.uk/international/film/
Information courtesy of the University of Exeter
---
Academic Program and Course Information
In 2013 the University of Exeter will again welcome undergraduate and postgraduate students to study on credit rated pathways within our world class departments. A top ten UK University that is renowned for research-led teaching, the International Summer School at the University of Exeter offers students from around the world the opportunity to be inspired while enjoying one of the most beautiful areas in Great Britain.

In 2013, the eight academic pathways on offer are listed below with links to their course timetables:

Global and Imperial History
http://www.exeter.ac.uk/international/summerschool/pathways/history/timetable/


Global Climate Change: Environment, Technology and Society
http://www.exeter.ac.uk/international/summerschool/pathways/climatechange/timetable/

International Management
http://www.exeter.ac.uk/international/summerschool/pathways/management/timetable/

International Relations: Conflict, Security and Peace
http://www.exeter.ac.uk/international/summerschool/pathways/international_relations/

Law
http://www.exeter.ac.uk/international/summerschool/pathways/law/

Physical Activity and the Environment: 21st Century Medicine
http://www.exeter.ac.uk/international/summerschool/pathways/physical_activity/

The Psychology of Crime
http://www.exeter.ac.uk/international/summerschool/pathways/psychology/

Shakespeare and His World
http://www.exeter.ac.uk/international/summerschool/pathways/shakespeare/


Academic tuition takes place between 9.00 a.m. and 3.00 p.m. and will consist of two sessions of two hours. Afternoon activities and day trips will tie into the academic programme.
Whether you are looking for a specific course to complement your current study by earning credits or whether you are studying purely out of interest, we are here to advise and ensure that you find what you are looking for and that you get the most out of your time here.


---
Faculty
All modules taught by Exeter faculty.
---
Program Costs
The estimated fee for the Exeter International Summer School 2013 is £1,995, payable directly to the University of Exeter, plus a $500.00 Administrative and Insurance Cost payable to The University of South Florida.
This is an all inclusive package including:
3 day orientation and cultural excursions in London;
3 week intensive lecture programme;
extensive programme of cultural activities including daytrips to Oxford, the Roman city of Bath, the Eden Project (pictured above) barbecues, and beach trips;
accommodation and 2 meals a day
This cost does not include travel to or from the UK, passport or visa costs, insurance, personal expenses such as laundry or telephone calls.

Exter will be offering 12 scholarships worth £500 each to USF students. This year, these are for specific pathways- 8 for Physical Activity, and one each for Law, Shakespeare and His World, The Psychology of Crime and Global & Imperial History. Exeter would welcome applicants to the other pathways as well, but they are not currently offering scholarships for these.

Students applying before 15th February will receive a £250 discount, whether they were awarded a scholarship or not. If awarded a scholarship this discount is subtracted from the scholarship total.

International Summer School - visits and social programme

What will happen on the London trip?
Your stay in the UK will begin with a three day visit to the capital city of London where you will be met by fellow students and University of Exeter staff. Staying near Covent Garden, you will be ideally situated to explore the shops and cafes of this tourist heart of the city. Organised excursions include a guided walk of key historical sights including the Houses of Parliament and Buckingham Palace, a visit to the Tower of London, a boat trip down the Thames and a trip to the Shakespearean Globe Theatre.

What will the day trips involve?
Stonehenge
You will have the opportunity to visit the World Heritage Site, Stonehenge. You can be the next in a line of people spanning the centuries to stand in awe before this prehistoric monument, built over 4000 years ago. You will have a couple of hours at Stonehenge to explore and discover how and why these mysterious stones came to be here.

The Eden Project
The Eden Project in Cornwall is world famous for its biomes and is one of the top tourist attractions in the UK. Created as a festival of plants it is based around three domes, each of which represents a different climate, from tropical jungle to the Mediterranean. The Eden Project also hosts a thought provoking environmental education zone, has regular music concerts and a thriving arts scene.

Bath
Since Roman times, Bath has been a tourist attraction with people visiting to bathe in the restorative spring waters. Visit the ancient baths and then take to the waters yourself in the spa. Afterwards you can walk the bustling streets of this lively old town with its boutique shops, cafes and pubs.

St Ives
This Cornish fishing village is a popular spot for tourists. Its labyrinth of alleys houses numerous small shops and art galleries to have a look round and for art enthusiasts there is the Tate Gallery which showcases big names in contemporary art. The town is fringed by golden beaches, ideal for a stroll, a swim or maybe a quick surf! Fish & chips could be the order of the day in this archetypical English fishing village.

What other social events will there be?
The International Summer School is about more than work and whilst here you can enjoy a full social programme, giving you the chance to get to know your fellow students and make some firm friends. Activities include a welcome barbecue on the evening you arrive in Exeter, a quiz night at one of Exeter's historic pubs, cream tea at the Cathedral and a graduation party. There will also be plenty of free time for you to enjoy the local area including the seaside town of Exmouth and the Jurassic Coast. We will be on hand throughout your time here to give advice on things to do. For a peek at what the area has to offer please see the University's Living in Exeter section.


Return to top
---
Living Arrangements
Holland Hall
Accommodation for the International Summer School is at Holland Hall, one of the Universities newest halls of residence, on the beautiful Streatham Campus. Students will have their own en-suite room with breakfast provided. Each room has a telephone, mini fridge, safe, tea and coffee making facilities, bedding, towels and complementary toiletry pack. There is a porter on site from 7am till 11pm.
The hall is set back in the hills and has stunning views across the Exe Valley. Streatham Campus itself is a registered botanic garden. During the summer there will be building work on campus, however we will endeavour to ensure that this will have a minimal impact on your stay.
All accommodation costs are covered in the fee.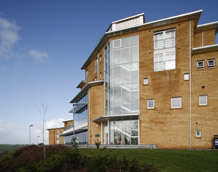 Campus facilities
Streatham Campus is a 15 minute walk from the facilities offered in Exeter town centre, but the campus itself has a wide range of facilities available to Summer School students. These include:
A campus shop where you can buy food and drink, newspapers and magazines and other items.
A bank and cashpoint
A Christian and Muslim prayer rooms (please see as.exeter.ac.uk/support/chaplaincy/ for more information)
Laundrette
Library and internet access
Health facilties
We will give you a tour of the campus on your arrival in Exeter to ensure you get your bearings and know exactly what is available and where. For a pre-International Summer School virtual tour why not visit our Visit Us pages.
International Office staff will be on hand from Monday - Friday throughout the course to answer any questions you may have and to offer support.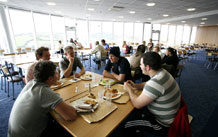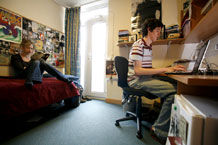 ---
Who Can Participate?
All Students are eligible to apply. Non-USF students are also welcome to apply.
---
Getting There
You will be responsible for reserving and purchasing your international transportation to Exeter. Please do not purchase your air ticket until you have been advised to do so by the program coordinator. They will advise participants of a group-designated flight schedule. All who wish to travel with others in the program will receive this information well in advance so they can book these flights.You must provide the program coordinator with your final flight itinerary.
Travelling to Exeter
Getting to the summer school couldn't be easier!
We will provide coach transport to and from central London at the start and end of the summer school. We will also provide coach pick up from Heathrow airport to the hotel in London (further information to follow). London has several international airports and you can fly direct from a wide range of countries.
At the end of the course, students can either make their own arrangements for onward travel, or take a coach to London Victoria station provided by the University (departing Exeter on Saturday 6th August).
For comprehensive information on travelling to and from Exeter please view the visiting us pages.
---
Medical Insurance and Travel Documentation
USF provides program participants with sickness/accident and emergency medical evacuation insurance for the dates of the program. Those who will travel independently, either in advance of the program or after the program ends, must ensure that they have insurance coverage that is valid outside the U.S. If not provided through your domestic health insurance carrier, this can be purchased separately through CISI or through another agency. The USF Card Center sells the International Student ID Card (ISIC), which has a health insurance benefit in addition to providing student discounts overseas. For information, call the Card Center at (813) 974-2357 or visit the office located in the Marshall Center on the USF Tampa campus.
U.S. citizens must have a valid U.S. passport with at least one year of validity remaining on the passport. Non-U.S. citizens should check with the Italian consulate in Miami and with their own country's consulate regarding visa requirements.
---
Financial Aid and Scholarship Funding
Students who are eligible for loans and grants to take classes at USF may be able to use their assistance to study abroad. USF students should contact the University of South Florida Office of Financial Aid (813) 974-4700 or visit http://usfweb2.usf.edu/finaid/ for further information. Students attending other universities should apply to their home institutions for financial aid. Please inform the Education Abroad Office early if you expect to receive financial aid. Note that students are responsible for meeting program payment deadlines regardless of financial aid disbursement time-frame.
The Education Abroad Office offers Compass Study Abroad Scholarships for study abroad. These are partial scholarships awarded on a competitive basis. Please visit:
http://educationabroad.global.usf.edu/?go=Funding for application information and deadlines.
---
Safety & Health
Participant's safety and wellbeing are paramount to USF. Because of the added stresses associated with operating in a foreign culture and language, even the safest foreign locations are likely to carry more risk to your safety and health. For this reason it is vital that you learn as much about the places you will be traveling to as possible; the more you are familiar with the host country's geography, culture and language, the safer you will be. All participants will be required to attend a general study abroad orientation as well as program-specific orientations. In addition to these sessions, you should consult the USF Safety website as well as the websites listed below that provide useful information regarding your host country, and preparation for your international travel.
Personal Safety
As indicated in the US State department website, the UK "benefit[s] from generally low crime rates. Overall crime rates have decreased over the past decade." While difficult to compare, crime rates, particularly homicides, in the UK are well below those of the US.
However, as with any large metropolitan area, students should be particularly alert of their surroundings in London. As with New York and other major international cities, the threat of terrorist attack is present and students should regularly monitor local news as well as the US State Department website for updates. We encourage you to consult the following websites as soon as possible.
USF Education Abroad Safety website: Safety While Abroad
US Department of State: http://www.state.gov

Country Specific Information: http://travel.state.gov/travel/cis_pa_tw/cis/cis_1052.html#safety
Preparing for your trip: http://studentsabroad.state.gov/html-site/StudentAbroadHome.html
To gain a different perspective on safety, you may want to visit other countries Foreign Travel websites. As a point of comparison, we encourage you to see what these sites say about safety in U.S. cities:
Australian Ministry of Foreign Affairs: http://www.dfat.gov.au/geo/
Foreign Affairs and International Trade Canada: http://www.voyage.gc.ca/countries_pays/menu-eng.asp#C
Travel Alerts
As of October third, 2010 the State Department has issued travel alerts for all visitors to Europe. Current information suggests that al-Qa'ida and affiliated organizations continue to plan terrorist attacks. European governments have taken action to guard against a terrorist attack and some have spoken publicly about the heightened threat conditions. For more information on this, please visit the State Department website at http://travel.state.gov/travel/cis_pa_tw/pa/pa_5171.html.
Scams
In London, you should use only licensed Black Cabs or car services recommended by hotels or tour operators. Unlicensed taxis or private cars posing as taxis may offer low fares, but are often uninsured and may have unlicensed drivers. In some instances, travelers have been robbed and/or raped while using these cars. ATM fraud in the United Kingdom is becoming more sophisticated, incorporating technologies that surreptitiously record customer ATM card and PIN information. Avoid using ATMs that look in any way temporary in structure or location, or are located in isolated areas. Be aware that in busy public areas, thieves use distraction techniques, such as waiting until the PIN has been entered and then pointing to money on the ground or attempting to hand out a free newspaper. When the ATM user is distracted, a colleague will quickly withdraw cash and leave. Don't buy counterfeit and pirated goods, even if they are widely available. Not only are the bootlegs illegal in the United States, you may be breaking local law too.
Health and Fitness Requirements
The majority of USF's study abroad programs involve a great deal of walking, and in some cases hiking and trekking. The USF's Exeter exchange program is a largely resident-based program. Nevertheless, students will be required to climb stairs, and walk a great deal, even if taking public transportation. If you have any concerns regarding your health (mental or physical), please consult your doctor, and the staff of Education Abroad prior to the program!
Information on vaccinations and other health precautions, such as safe food and water precautions and insect bite protection, may be obtained from the Centers for Disease Control and Preventions hotline for international travelers at 1-877-FYI-TRIP (1-877-394-8747) or via the CDC's Internet site at http://wwwn.cdc.gov/travel/default.aspx. For information about outbreaks of infectious diseases abroad, consult the World Health Organization (WHO) web site at http://www.who.int/en. Further health information for travelers is available at http://www.who.int/ith.
Travel & Health Links:
• Travel Health Information from the Centers for Disease Control and Prevention
• Travel Health Information from the Food and Drug Administration
• Travel Health Information from the World Health Organization

Hillsborough County Health Department Travel Clinic Website: http://www.hillscountyhealth.org/new_website/immunizations.htm
---
Special Terms
As part of their program application, all participants will be required to carefully review and sign the Education Abroad Participant Contract that describes students' responsibilities with regard to study abroad, including insurance and cancellation and refund policies. Students will be required to sign this document. You may access the document at: http://global.usf.edu/iac/educationabroad.
---
Contacts for More Information
Jim Pulos
USF Education Abroad
Phone: (813) 974-4043
Email: jpulos@iac.usf.edu