University of South Florida
This page is the brochure for your selected program. You can view the provided information for this program on this page and click on the available buttons for additional options.
Costa Rica: Beyond the Classroom
Monteverde, Costa Rica;
San Jose, Costa Rica
Program Terms:
Spring

Eligibility:
Please see below for requirements.
Budget Sheets:
Summer

There are currently no active application cycles for this program.
---
Program Dates: May 5 - 18, 2013
Costa Rica: Beyond the Classroom is a unique course that covers history, social issues, and culture of Costa Rica, followed by a two week cultural immersion program. Students will learn about the country through textbook and journal article readings, in class discussions, guest lectures, and interactive media. In addition to learning about Costa Rica, students can expect to learn about service-learning as an academic and social experience. Students will participate in a service project during the semester and will participate in a construction project in San Jose, Costa Rica during the first week of the program. After a short rest weekend in Samara, a small beach town on the Pacific Coast, students will travel into the mountains of Monteverde to live and work on family farms amidst a cloud forest.


Students will be accompanied by two faculty members, Dr. Mike Miller and Mrs. Cayla Lanier at all times. While the time in country will be mostly spent doing service, there may be time for visits to local museums, shopping in the mercado and enjoying local treats such as pasteles and granizadas.

Check out the video from a previous group here!
---
The group will arrive in San Jose, Costa Rica, where they will stay with host families for the first week of the program. The group will travel together to Samara Beach, on the Pacific Coast for a beach weekend, before traveling into the mountains to Monteverde for the second week of the program. Students will have the opportunity to experience firsthand the diversity of life in Costa Rica by seeing three different areas.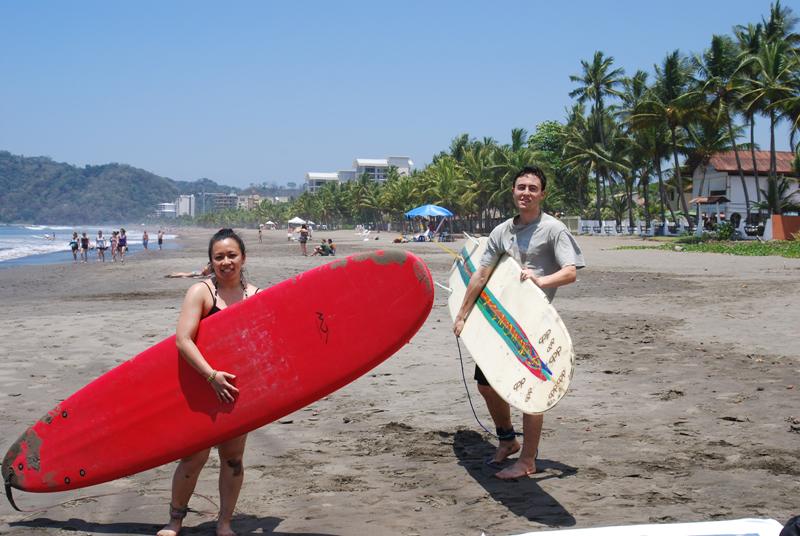 ---
University of South Florida Honors College
---
Academic Program and Course Information
IDH4200 Geographic Perspectives Honors, OR
IDH4000 Honors Major Works/Major Issues

Students will enroll and participate in the Costa Rica: Beyond the Classroom Honors course throughout the Spring 2013 semester, then travel with the class to Costa Rica for two weeks at the end of the semester. Final grades will be posted after returning from the travel abroad program.

---
Cayla Lanier
Academic Advisor, Instructor
Honors College
cclanier@honors.usf.edu
Dr. Michael Miller
Assistant Professor
Government and International Affairs
millerm@usf.edu
---
Program Cost for Spring 2013: $1,580
Included:
Accompaniment and on-site program direction by USF instructors
Home stay accommodations with breakfast, lunch and dinner in San Jose and Monteverde
Guided hike through mountains surrounding San Jose
Hotel lodging in Samara
All program related, in-country transportation
Health Insurance

Not Included:
International Airfare (estimate $450-550)
Personal spending (snacks, water, and other meals similar to cost in America; city busses: $0.50-$1.00 per day; entertainment to vary by individual).

Payment Schedule
Within 5 Business days of Confirmation of Acceptence = $500 (this suffices as first payment of Program Cost)
February 5: $580
March 5: $500
Paid-in-Full: $1580 (100% Program Cost)

---
The program uses home stay accommodations in which students live with local families carefully selected by the in-country partner, Maximo Nivel. This arrangement provides a more in-depth understanding of the daily life of Costa Ricans, who are noted for their friendliness. Also, language acquisition is much enhanced by daily interaction with the home stay families and the opportunity to practice speaking Spanish outside the classroom. Another advantage of home stay lodging is that it includes breakfast, lunch and dinner daily, thereby making the program more economical for the student. Internet access should not be expected at the home stay residences, but is available at the institute and at plentiful internet cafes.

Home stay accommodations in San Jose will house students and instructors in groups, likely sharing rooms furnished with twin beds. Home stay accommodations in San Luis, Monteverde will house 2-3 students with different families in a group of residences within walking distance of each other. Lodging in Samara will be hotel or villa style lodging with students sharing rooms.

---
This program is hosted by the Honors College and open to any Honors College student. Some Spanish speaking ability is strongly suggested, as host families in Monteverde do not often speak English.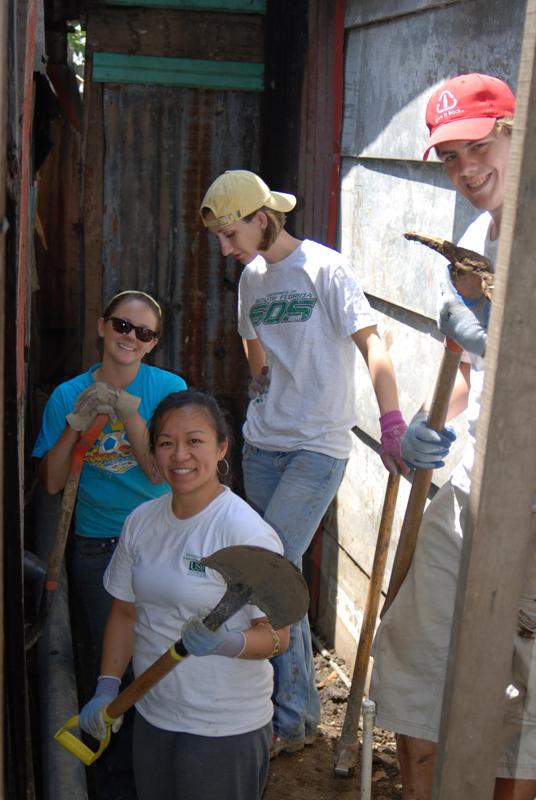 ---
Please click here for further details regarding payment.
---
You will be responsible for reserving and purchasing your international transportation to and from San Jose, Costa Rica. Please do not purchase your ticket until the USF Education Abroad Office has released the official group flight schedule, as these will be the flights that the USF program director will travel on. It is necessary that program participants travel on these flights, as this is the arriving and departing flight schedule that will provide group ground transportation to and from the partner institute. Participants who must travel on other than the group-designated flights must arrange to arrive at the San Jose airport at approximately the same time or earlier than the group flight.

---
Medical Insurance and Travel Documentation
USF provides program participants with sickness/accident and emergency medical evacuation insurance valid for the dates of the program. Those who will travel independently, either in advance of the program or after the program ends, must ensure that they have insurance coverage valid outside the U.S.
Please click here for more detailed information.
---
Financial Aid and Scholarship Funding
Many funding opportunities are available to USF students who are planning to study abroad. Please see our funding page for further details. The Honors College Travel Scholarship will be awarded to each student enrolled in the course. Additionally, those students living in the Honors LLC are eligible for an LLC scholarship.
---
Participant's safety and well-being are paramount to USF. Please click here for detailed safety and health information given in our Pre-Departure Guide before you travel. Also, don't forget to read up on country-specific information on the U.S. Department of State and Centers for Disease Control and Prevention websites.
Scams Common in Costa Rica:
Thieves in Costa Rica often work in small groups. The most prevalent scam involves the surreptitious puncturing of tires of rental cars, often near restaurants, tourist attractions, airports, or close to the car rental agencies themselves. When the travelers pull over, "good Samaritans" quickly appear to help change the tire - and just as quickly remove valuables from the car, sometimes brandishing weapons. Drivers with flat tires are advised to drive, if at all possible, to the nearest service station or other public area and change the tire themselves, watching valuables at all times. Another common scam involves one person dropping change in a crowded area, such as on a bus. When the victim tries to assist, a wallet or other item is taken.
Personal Safety in Costa Rica:
While no country is free from threat to one's safety or health peril, Costa Rica is comparatively stable and secure. Costa Rica has had democratic elections since the 19th century and has no military. Sadly, the disparity in wealth between the poorest of Costa Rica's citizens and visitors to this country has led to an increase in theft, particularly in the capital city of San Jose. Students should be vigilant and alert to their surroundings. For example, they should carry with them no more money than needed for one or two days, and certainly not their passport, which should remain locked up in a safe place. A local orientation upon arrival will provide cautions and advice on how to stay safe and avoid becoming a potential target.
---
Students should review carefully the Education Abroad Participant Contract, included in the Education Abroad application process. It describes students' responsibilities with regard to participation, and includes information on insurance, and cancellation and refund policies. Students will be asked to electronically sign this document. To view this document before applying, please click here.
Students must also abide by the Honors College Travel Policies, which are provided with the program application.