University of South Florida
This page is the brochure for your selected program. You can view the provided information for this program on this page and click on the available buttons for additional options.
USF GloBull Ambassador Program
Tampa, United States
(Outgoing Program)
Program Terms:
Fall,
Spring

Eligibility:
Please see below for requirements.
Term

Year

App Deadline

Decision Date

Start Date

End Date

Fall

2015

11/03/2015 **

Rolling Admission

08/24/2015

12/04/2015


** Indicates rolling admission application process. Applicants will be immediately notified of acceptance into this program and be able to complete post-decision materials prior to the term's application deadline.

Indicates that deadline has passed
Why Join the GloBull Ambassador Program?
As part of the GloBull Ambassador's program, you will have the opportunity to share your experience and knowledge with students who are thinking about studying abroad, or those who have already decided and are in the process of preparing for their study. In addition to quality conversations about overseas destinations and issues, you will get to experience the study abroad industry from the advisor's standpoint, network within the study abroad community, and add a great experience to your résumé!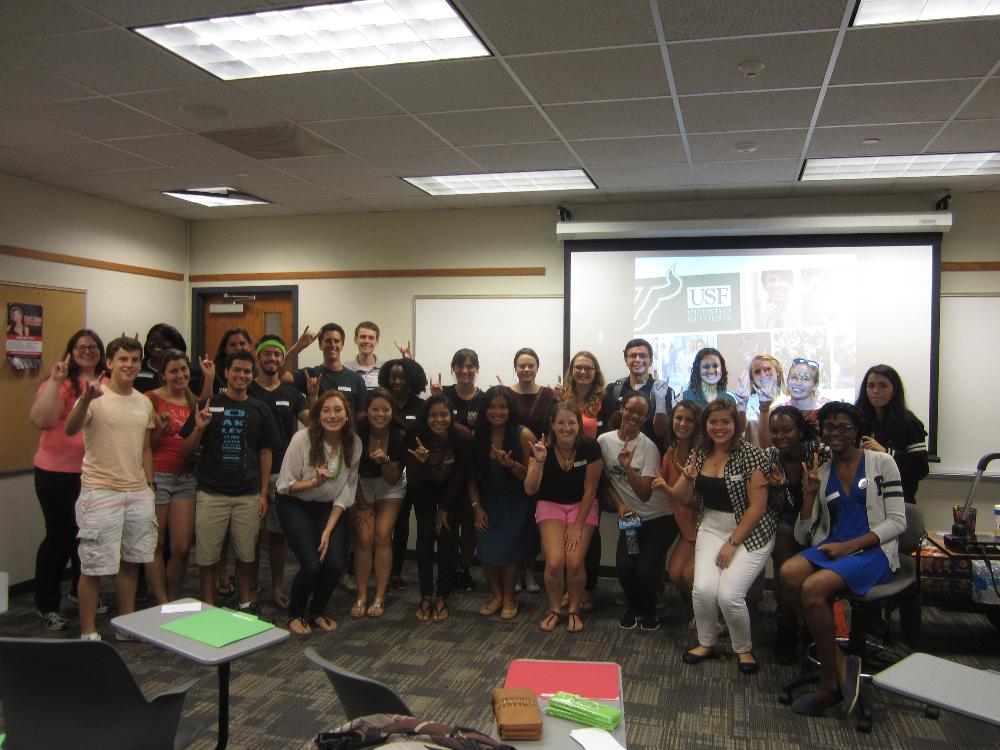 What will you do as a New Member of the GloBull Ambassadors?

As a new member of the GloBull Ambassadors you will have several opportunities throughout the semester to talk to other prospective students about your experiences abroad. You will be able to accomplish this by attending several Education Abroad sponsored events. By attending these events you will not only gain the hours you need to successfully complete the program, but you will also gain valuable skills in programming, public speaking and communication. In addition to the events GBA's will also be invited to participate in group socials and professional development sessions designed to help students reflect on their experiences abroad in a more meaningful way.

All GloBull Ambassadors are required to participate in at least 2 of the following:
An Education Abroad Fair or Showcase
Represent Educ

a

tion Abroad at Bull Market
Classroom Presentation or Program Information Session
Participate in Pre-departure Orientation or Funding Session
Total Semester Hour Commitment: 10 hrs

GloBull Ambassador Training
GloBull Ambassador Academy **REQUIRED FOR ALL MEMBERS (new & returning)**:

During this mandatory workshop (two separate sessions will be held during the beginning of the semester, times TBD) you will learn the ins and outs of being a GloBull Ambassador! This training session is led by the Education Abroad Student Program Coordinator, Education Abroad Staff and members of the GloBull Ambassador Executive Board. Both the staff and students will not only prepare you for the various ways you will be representing and promoting Education Abroad, but you will also gain insight on how the program is geared toward your professional development.


New Opportunities Available for Ambassadors!
In addition to the responsibilities of a GloBull Ambassador (described above) members of the GloBull Ambassador Executive Board and GBA Subcommittees will additionally serve in a leadership capacity for the program. This is a brand new initiative that is being implemented so please make sure you have some flexibility in your schedule before applying. These positions will require extra work, but we aim to make it well worth your time.

Below is the new structure of the program. If you see a position you are interested in please email Chris Haynes (haynesc@usf.edu) with your resume and a CV letter detailing why you would like to apply for the position. A review committee will evaluate each candidate. Be sure to note the position you are applying for in the subject line of your email. All positions will be filled by the end of Summer C (July 17th). Late applications will only be considered to students currently studying abroad with limited internet access.

**We will attempt to hold a summer retreat for Executive and Advisory Council Members before the start of Fall Classes. **

There is a possibility that interviews will be conducted to further evaluate candidates. You do not have to be present for the interview as ALL will be conducted over the phone.

Again, please read the descriptions carefully.

Executive Board:

President- The president of the GBA program will be responsible for overseeing the board and the overall progress of the program. This individual will meet bi-weekly with the board and lead discussions about the current and future status of the program. This person will also be responsible for keeping the Student Program Coordinator up to date with developments with the board, subcommittees and new members. They will also be required to run and oversee the monthly subcommittee meeting. The president is the face of the program!

Vice President- This individual will work closely with the president and sit in as president during times of absence. They must attend all bi-weekly meetings and will be expected to attend a higher volume of events to determine an events success. This person needs to be very flexible with scheduling and have a very objective mindset to help evaluate the events that make up the program. The VP will take a more active role making sure the entire program is running smoothly.

Marketing Director- This person will oversee all strategies regarding outreach across campus. This will include, but not be limited to, all forms of print media, social media, side walk chalking, Bull Markets and any other forms of promotion for Education Abroad. This person will directly oversee the entire Marketing/Outreach subcommittee to ensure efficiency and that our branding is consistent. This person may also be responsible for managing a small budget in conjunction with the Student Program Coordinator.

Secretary- This individual will be responsible for tracking the programs progress. They will be expected to keep detailed records of executive board meetings. They will also need to be able to organize and keep track of event folders. They will need to make sure that each folder consists of all of the required elements and also establish a system for tracking event survey responses.

ADDITIONAL Semester Commitment: 10-20 hours

GBA Subcommittees:

Scholarship & Peer Mentor Committee: This group of students will work in conjunction with our Office Registrar and Scholarship Administrator, Melissa Steiner, from our main office. The committees main goal will be to help advise and mentor prospective students through the scholarship application process. Students will focus on teaching students how to write effective letters of intent, gain useful recommendations and how to apply to a multitude of scholarships to help fund an experience abroad. This group will have weekly office hours in the Marshall Center to hold open advising sessions on this topic. They will also be asked to participate in funding session presentations as well as additional program development. REQUIREMENTS: Must have won an Ed Abroad Scholarship or other study abroad specific scholarship/grant.
(Secretary oversight)

New Program Development: The focus of this committee will be on creating new and exciting events for our GBA's and Ed Abroad Office to host on campus. The committee will be required to submit new program proposals to the President for implementation. All aspects of the created program must be accounted for including, but not limited to the following items: Goals & objectives, program features, marketing strategies, targeted participants and resources required. Students on this committee must develop these programs from the ground up and will be required to reserve spaces to hold the events and work with our Ed Abroad Office to get them funded with the assistance of the Student Program Coordinator. REQUIREMENTS: none
(Presidential oversight)

Existing Program Development: This subcommittee will be tasked to look at our existing programs and come up with innovative ways to make them more effective. Members will also be responsible for the day to day set up and maintenance of these programs. The Ed. Abroad Office has many programs that run on a regular schedule and many need to be revamped to attract more students. Students will be asked to attend these events (i.e. Bull Market, Getting Started and Orientation Sessions) and not only come up with new ways of improving them, but also fine tune the already existing details of the program by making sure the event runs smoothly from start to finish. REQUIREMENTS: Must have attended at least one regularly scheduled event last semester.
(VP oversight)

On Campus Marketing & Outreach: Students on this subcommittee will be asked to work with all outreach efforts within Education Abroad including other GBA subcommittees. We desperately need to seek out new avenues for marketing on campus events for Education Abroad. This group of students will be asked to develop and maintain marketing efforts on campus for the majority of the programs that GBA's are able to attend. They will be asked to focus on our major programs (i.e fairs, funding sessions…etc) but any program/event is subject to be impacted by this group. Students need to work in conjunction with the Student Program Coordinator and will be required to keep detailed records of their effectiveness for future GBA's in this role.
(Marketing Director oversight)

New Member Engagement: Individuals on this committee will be responsible for getting 100% GBA member participation amongst new members. Students on this subcommittee will need to consistently check the hours of new members to ensure they are on track for completion. They will be asked to collaborate with the Student Program Coordinator on ideas to increase participation amongst this group of students. They may also have to collaborate with New Program Development and Existing Program Development to create more opportunities for participation throughout the semester. REQUIREMENTS: Must be able to attend more than the required 10 hours of events.
(VP oversight)
***Subcommittee members will be required to attend at least one monthly meeting with the Student Program Coordinator and the Executive Board and comment on their groups progress and plans for the future.***


ADDITIONAL Semester Commitment: 5 - 10 hours


Ambassador Advisory Council Eligibility
GloBull Ambassadors are only eligible for a maximum of two terms as an Executive Board Member in their college career. Subcommittee Members can hold their positions for as many semesters as they wish.

GO BULLS!!
Question? Concerns? Want more info? Contact the GloBull Ambassador Program Coordinator:
Chris Haynes
USF Education Abroad
Email: haynesc@usf.edu