University of South Florida
This page is the brochure for your selected program. You can view the provided information for this program on this page and click on the available buttons for additional options.
REU Site, Globalization and Community Health Field School: Combining Social Science and Engineering
Monteverde, Costa Rica;
San Jose, Costa Rica
(Outgoing Program)
There are currently no active application cycles for this program.
---
Program Overview
*Please note that this NSF grant funded study is open to UNDERGRADUATES only. If you are seeking to apply for the graduate study (or non-funded upperlevel undergraduate study), please click here: http://educationabroad.global.usf.edu/?go=fieldschoolcostarica *

**This program is open to both USF and non-USF students. Non-USF students can click the "Apply Now" button and use their email address to begin an application. Please note that before the selected students (they will be notified of this status after the application closes and the faculty review all applications) can accept their spot on the program, they must first go through our "How to Apply" page on the Education Abroad website to gather instructions on how to apply to USF as a non-degree seeking, transient student (and pay the $30 fee). We will inform those students when it is time for them to take this step.**

The overseas component of this program will run June 9 - July 19. Please note that this course has an online component before the overseas study from May 19 - June 6.

The "REU Site, Globalization and Community Health Field School: Combining Social Science and Engineering" is an intensive 9-week summer program conducted in Monteverde, Costa Rica, in association with the Monteverde Institute. The field school's goal is to provide students with rigorous training on both qualitative and quantitative methods from anthropology and civil and environmental engineering to conduct community health research in areas of the world undergoing rapid change as a result of globalization.

The field school is designed for students in anthropology, public health, nursing, pre-medicine, engineering, and other related fields. It is structured to provide students with the opportunity to visit health related institutions (hospitals, clinics, health centers), government agencies, and community based organizations, as well as to interact with personnel from the Ministry of Health, the School of Public Health at the University of Costa Rica, and with community organizers.

Under the guidance of faculty members from Anthropology and Engineering, students conduct research in local communities on issues related to health that can be addressed from a cross-disciplinary perspective. Students present their results in an academic as well as in a community setting. In addition, students participate in a day-long health fair in one of the local towns and immerse themselves in the culture of the area by living with home-stay families.
Check out this great video that a student from last year's program created!
https://www.youtube.com/watch?v=Qtp3W186g18
http://erengineering.wordpress.com/2013/10/04/costa-rica-researching-community-health-and-animal-waste-management/
Return to top
---
Location
The program will begin in San Jose, Costa Rica. There the students will visit several health related institutions (hospitals, clinics, School of Public Health (U. of Costa Rica) and non-governmental organizations that focus on the topics that the students will be doing research on (E.g., water management, sustainable small-scale food production). Thereafter, student will go to the Monteverde (rural mountain area) where they will learn qualitative and quantitative community health methods from anthropology and civil and environmental engineering, design their research projects, and carry out the research. While there, the students will visit the local health clinic and several communities where they will carry out research. The students will also be doing homestays with local Costa Rican families which will allow them to work on their Spanish language skills and learn about Costa Rican culture. A series of social activities will also take place while in Monteverde including visits to the protected cloud forest, hot springs, and downtown Santa Elena. During the field school, students will have a three-day weekend so that they can relax and explore more of the Monteverde zone or visit other regions of Costa Rica such as the Pacific Coast (3 hours away).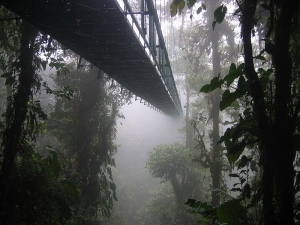 ---
Host Institution
The program collaborates with the School of Public Health of the University of Costa Rica, several governmental and non-government organizations, and hospitals and clinics in the capital city and Puntaranas province, as well as in Monteverde. Research areas focus on nutrition and food security, water and sanitation, reproductive health, and more. Local members from Monteverde serve as community advisors for students as they carry out their research projects.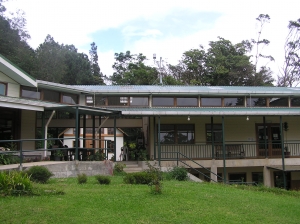 ---
Academic Program and Course Information
The Globalization and Community Health Field School is run in collaboration with our partner institution, the MVI, a research institute with 30 years of work in the local community. As part of the course we also work with PhD-level colleagues from the University of Costa Rica, with specialization in Public Health and Anthropology. In addition, this will be the first year that we work with Ph.D. level colleagues in the Department of Civil Engineering and Environmental Engineering at the USF College of Engineering. This is a very intensive course based on field experiences.

Students will gain practical experience while conducting community-based health research that brings together the social sciences with civil and environmental engineering (CEE). The program is a 10 week course conducted in Monteverde, Costa Rica and consists of six weeks of interdisciplinary methods training and four weeks of intensive research on health-related issues.

Students can opt to enroll in six academic credits (tuition not funded by NSF grant).

ANT 4495 / ANG7487 (3 credits) Methods in Cultural Research
ANT4930 / ANG 6465 (3 credits) Special Projects in Anthropology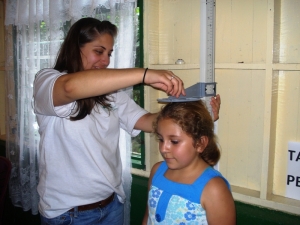 Credit Type Students enrolled in this program will be enrolled in direct USF credit.



The overseas component of this program will run June 9 - July 19. Please note that this course has an online component before the overseas study from May 19 - June 6.
---
Faculty
Nancy Romero-Daza, Professor and Project Director
David Himmelgreen, Professor and Project Director
Sarina Ergas, Department of Civil and Environmental Engineering
James Mihelcic, Department of Civil and Environmental Engineering
Nancy Romero-Daza, along with David Himmelgreen, has directed over six seasons of the Globalization and Community Health Field School in Monteverde, Costa Rica. She has also conducted two research projects in Monteverde in collaboration with the Monteverde Institute, the host institution for the field school. At present, Himmelgreen (PI) and Romero-Daza (Co-PI) are running a three-year research project funded by NSF on the impact of tourism on food security in the area.
---
Program Costs
The National Science Foundation under Grant No. 1156735 covers the vast majority of the costs for this program.


Included Program Features:
Group ground transportation to and from San Jose airport
7 weeks of classes and structured research
Homestay accommodations with all meals
All program-related excursions and site visits
Guest lectures by internationally renowned anthropologists, nutritionists and other international health experts
International airfare
Weekly stipend
Required Additional Costs to consider:
USF Policy CISI Emergency Medical and Evacuation Insurance - $50/month, $100 total
Non-Degree Seeking Student application fee (if not a current USF Student) - $30 NON-REFUNDABLE
Non-Degree Seeking Student transcript fee (if opting for credit) - $10
Optional Additional Costs to Consider:
Instructional and Administrative costs to take classes for credit - $1,275
Personal Spending (varies)
A $100 program deposit (this will go toward the cost of your insurance) is due at the point of "committment" to the program, after being accepted by the Program Directors in order to confirm a space in the program. Final balance of the non-funded portion of the program is due by April 26th. This deadline is firm as it corresponds to when fees must be forwarded for your program.
Instructional and Administrative Costs
USF instructional costs and the administrative costs are due once credits and fees have been posted by the Education Abroad Office to the student's OASIS account.
---
Living Arrangements
After the first few nights of hotel lodging in San Jose, the program moves to the highlands and to Monteverde. Here, homestay accommodations are used, in which students live with local families carefully selected by the Monteverde Institute. This arrangement provides a more in-depth understanding of the daily life and customs of Costa Ricans, who are noted for their friendliness. Also, language acquisition is much enhanced by daily interaction with the homestay families and the opportunity to practice speaking Spanish outside the classroom. Another advantage of homestay lodging is that it includes all meals, thereby making the program more economical for the student.
---
Who Can Participate?
Upper-level undergraduate students of anthropology, public health, nursing, pre-medicine, engineering and related disciplines will benefit most from participation in the field school program. Spanish proficiency is required. Prospective participants should contact the USF program directors to inquire about further details regarding the grant and academics of the program. Acceptance into the program is at the discretion of the program directors.
---
How and When to Pay
Please click here for further details regarding payment.
---
Getting There
Program participants may make individual flight arrangements to arrive in San Jose, the capital city of Costa Rica. The Monteverde Institute will arrange airport pick-up for those who arrive within a certain timeframe on the first day of the program. Further information on this will be provided by the Monteverde Institute.
---
Medical Insurance and Travel Documentation
USF provides program participants with sickness/accident and emergency medical evacuation insurance valid for the dates of the program. Those who will travel independently, either in advance of the program or after the program ends, must ensure that they have insurance coverage valid outside the U.S.
Please click here for more detailed information.
---
Financial Aid and Scholarship Funding
Many funding opportunities are available to USF students who are planning to study abroad. Please see our funding page for further details.
---
Safety & Health
Participant's safety and well-being are paramount to USF. Please click here for detailed country-specific safety and health information given in our Country Study Report. Make sure to read up on country-specific information on the U.S. Department of State and Centers for Disease Control and Prevention websites.
There are no vaccinations required at present for travel to Costa Rica. Malarial mosquitoes are not a problem in the highlands. Because Monteverde is located in a cloud forest, students should expect wet and often muddy conditions. Students should be aware that this program involves an active schedule and entails a good deal of walking, on mostly unpaved surfaces. Those with health concerns or special requirements should discuss this with the Education Abroad Office and program director.
Scams Common in Costa Rica:
Thieves in Costa Rica often work in small groups. The most prevalent scam involves the surreptitious puncturing of tires of rental cars, often near restaurants, tourist attractions, airports, or close to the car rental agencies themselves. When the travelers pull over, "good Samaritans" quickly appear to help change the tire - and just as quickly remove valuables from the car, sometimes brandishing weapons. Drivers with flat tires are advised to drive, if at all possible, to the nearest service station or other public area and change the tire themselves, watching valuables at all times. Another common scam involves one person dropping change in a crowded area, such as on a bus. When the victim tries to assist, a wallet or other item is taken.
Personal Safety in Costa Rica:
While no country is free from threat to one's safety or health peril, Costa Rica is comparatively stable and secure. Costa Rica has had democratic elections since the 19th century and has no military. Sadly, the disparity in wealth between the poorest of Costa Rica's citizens and visitors to this country has led to an increase in theft, particularly in the capital city of San Jose. Students should be vigilant and alert to their surroundings. For example, they should carry with them no more money than needed for one or two days, and certainly not their passport, which should remain locked up in a safe place. A local orientation upon arrival will provide cautions and advice on how to stay safe and avoid becoming a potential target.
---
Special Terms
Students should review carefully the Education Abroad Participant Contract, included in the Education Abroad application process. It describes students' responsibilities with regard to participation, and includes information on insurance, and cancellation and refund policies. Students will be asked to electronically sign this document. To view this document before applying, please click here.
---
Contacts for More Information
Questions regarding study abroad, program enrollment, registration and payment of fees:
Nancy Di Bella
USF Education Abroad Office, CGS 103
Phone: (813) 974-4314
E-mail: ndibella@usf.edu

Questions pertaining to the research program in-country, courses or credits:
Nancy Romero-Daza, Associate Professor and Project Director
Phone: (813) 974-2138
E-mail: daza@usf.edu