Education Abroad GloBull Ambassadors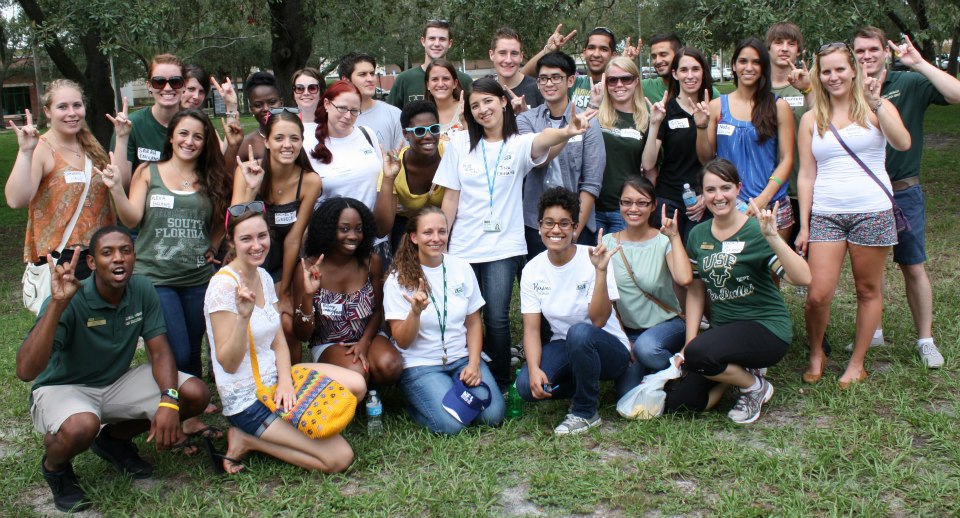 Thinking about studying abroad? Want to know what it's really like to live in another country? Want to know what classes are like overseas? Talk to an Education Abroad GloBull Ambassador! These students have been on our programs, and are excited to tell you about their study abroad experiences. See the list below to find a student who studied in your dream location!
Want to be a GloBull Ambassador?
---
Argentina
Ayla Horan aylahoran@mail.usf.edu
Melissa Kurtz melissakurtz@mail.usf.edu
Wendy Martinez wmartinez@mail.usf.edu
Australia
Megan Coite megancoite@mail.usf.edu
Belgium
Johann Duran Breidenbach johannd@mail.usf.edu
Jordan Gutierrez jgutierrez1@mail.usf.edu
Diana Kanzler Misle kanzlerd@mail.usf.edu
Brazil
Leslie Gibson lesliegibson@mail.usf.edu
Chile
Erin Kearney erinkearney@mail.usf.edu
China
Austin-James Cox austinjamesr@mail.usf.edu
Ryan Gandolfo rgandolfo@mail.usf.edu
Austin Prince austinprince@mail.usf.edu
Nicholas Roberts njroberts@mail.usf.edu
Costa Rica
Nia Bryant niabryant@mail.usf.edu
Kristin Hall khall2@health.usf.edu
Ayla Horan aylahoran@mail.usf.edu
Steffanie Munguia smmunguia@mail.usf.edu
Kurt Mynster mynster@mail.usf.edu
Tanisha Pierrette tpierrette@mail.usf.edu
Lauren Youngerman youngerman@mail.usf.edu
Czech Republic
Joycelyn Alleyne joycelyna@mail.usf.edu
Michelle Garcia michelleg1@mail.usf.edu
Denmark
Phaidra Stanley stanleyp@mail.usf.edu
Alexandra Trautman trautman1@mail.usf.edu
France
Eric Bautista eric20@mail.usf.edu
Catherine Churchwell cchurchwell@mail.usf.edu
Johann Duran Breidenbach johannd@mail.usf.edu
Tiekeyla Francois tfrancois@mail.usf.edu
Jordan Gutierrez jgutierrez1@mail.usf.edu
Diana Kanzler Misle kanzlerd@mail.usf.edu
Juan Mata jmata@mail.usf.edu
Dominique Rocco drocco@mail.usf.edu
Germany
Corinn Beem corinnbeem@mail.usf.edu
Ashley Cline ashlicline@mail.usf.edu
Megan Coite megancoite@mail.usf.edu
Kayla Ellison kaylaellison@mail.usf.edu
Christina Henson clhenson@mail.usf.edu
Paul Johannes pjohannes@mail.usf.edu
Hayley Kessler hayleyk@mail.usf.edu
Aaron Pingel pingel@mail.usf.edu
Muhaimen Shamsi muhaimen@mail.usf.edu
Katelyn Waldron waldronk@mail.usf.edu
Ghana
Shayna Davitt shaynadavitt@mail.usf.edu
Cydnee Dennison dennisonc@mail.usf.edu
Melissa Kurtz melissakurtz@mail.usf.edu
Rinaldi White rinaldiw@mail.usf.edu
India
Holly Mcqueary hmcqueary@mail.usf.edu
Donna May Sadural dsadural@health.usf.edu
Ireland
Corinn Beem corinnbeem@mail.usf.edu
Italy
Ricci Allen ricciallen@mail.usf.edu
Bonnie Buchanan bbuchanan@mail.usf.edu
Sam Cathcart scathcart@mail.usf.edu
Cristina Colon colonc@mail.usf.edu
Victoria D'Esposito despositov@mail.usf.edu
Brienna Floyd briennafloyd@mail.usf.edu
Erica Gloyd egloyd@mail.usf.edu
Jamie Guerette jguerette@mail.usf.edu
Ashley Harnish Mariani ach1@mail.usf.edu
Shane Heiser sheiser1@mail.usf.edu
Megan Jaquiss meganjaquiss@mail.usf.edu
Maylin Menendez Perez maylin@mail.usf.edu
Ashley Pierson pierson1@mail.usf.edu
Tanisha Roberts tanishamarie@mail.usf.edu
Dominique Rocco drocco@mail.usf.edu
Samantha Sandlin sandlin1@mail.usf.edu
Nicole Skolnekovich skolnekovich@mail.usf.edu
Kristina Vorndran kjv1@mail.usf.edu
Japan
John Coonan jcoonan@mail.usf.edu
Barbara Durden durdenb@mail.usf.edu
Brittany Sherwin bsherwin@mail.usf.edu
Netherlands
Johann Duran Breidenbach johannd@mail.usf.edu
Jordan Gutierrez jgutierrez1@mail.usf.edu
Diana Kanzler Misle kanzlerd@mail.usf.edu
Tanisha Roberts tanishamarie@mail.usf.edu
Sea|mester
Jonathon Burroughs jburroughs@mail.usf.edu
South Korea
Paige Atchison patchison@mail.usf.edu
Nathalie Mompremier nmomprem@health.usf.edu
Hanna Ro hannaro@mail.usf.edu
Gabrielle Waitman gabrielle3@mail.usf.edu
Spain
Morcie Anderson morcie@mail.usf.edu
Eric Bautista eric20@mail.usf.edu
Johann Duran Breidenbach johannd@mail.usf.edu
Shannon Gordon shannong1@mail.usf.edu
Jordan Gutierrez jgutierrez1@mail.usf.edu
Diana Kanzler Misle kanzlerd@mail.usf.edu
Daniel Krenik daniel41@mail.usf.edu
Maria Lohle mclohle@mail.usf.edu
United Kingdom
Cindy Ibarra cindyibarra@mail.usf.edu
Grace Johnson gracejohnson@mail.usf.edu
Caitlin Pike pikec@mail.usf.edu
Dominique Rocco drocco@mail.usf.edu
Laura Solinger lsolinger@mail.usf.edu
Taylor Trent tptrent@mail.usf.edu