University of South Florida
This page is the brochure for your selected program. You can view the provided information for this program on this page and click on the available buttons for additional options.
USF Art and Art History in Paris
London, United Kingdom;
Paris, France
(Outgoing Program)
Program Terms:
Summer

Budget Sheets:
Summer

Term

Year

App Deadline

Decision Date

Start Date

End Date

Summer

2016

02/15/2016 **

Rolling Admission

06/01/2016

07/06/2016

NOTE: June 1 - June 30: Paris June 30 - July 6: London (optional)


** Indicates rolling admission application process. Applicants will be immediately notified of acceptance into this program and be able to complete post-decision materials prior to the term's application deadline.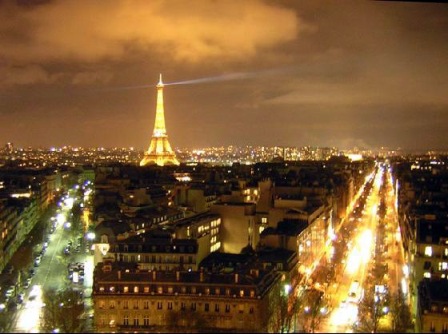 USF Art and Art History in Paris
Summer 2016
---
Program Overview
Through travel I first became aware of the outside world; it was through travel that I found my own introspective way into becoming a part of it." -Eudora Welty
This well-established program, now in its 29th year, provides students with an opportunity to immerse themselves in one of the world's most fascinating cities through visual arts investigations under the guidance of USF art faculty who have a strong knowledge and interest in the role of this city in the history and practice of art. The courses utilize Paris as a vast resource for learning, including both group and individual explorations of its museums, galleries, architecture, streets, parks and culture. Students experience the city as temporary residents rather than as tourists and become familiar not only with its monumental aspects, but with the daily life of its inhabitants, its family-owned shops and markets and the charm of its neighborhoods, including picturesque Montmartre, the Latin Quarter, the medieval streets of the Marais, and a myriad of cultural highlights including the Eiffel Tower, the Centre Pompidou, the Louvre and the Musée d'Orsay.

The program also takes advantage of the proximity of Paris to important cultural sites in the region and weekly excursions outside of the city include Chartres Cathedral, Monet's gardens at Giverny, the chateaus of Versailles and Vaux-le-Vicomte and Van Gogh's home at Auvers-Sur-Oise. The Paris program is designed to promote intercultural understanding as well as confidence in one's ability to adapt to a different culture. The 2016 program includes the option of an additional excursion to London, June 30 - July 6th. Students may enroll in the London excursion alone. Credits earned in Paris and London are applicable to USF art and art history degree requirements.

Program FAQs
2016 Program Dates:
June 1 - 30: Paris, France
June 30 - July 6: London, UK (optional)

---
How to Apply
Start an application by clicking "Apply Now" at the top of this page.

Submitting an application is free!

The application can be started, saved, and completed over time.

There are a limited number of spots on this program. Plan ahead by completing the application early.

Financially liability is not enforced until you choose to "commit" after you have been accepted.
---
Location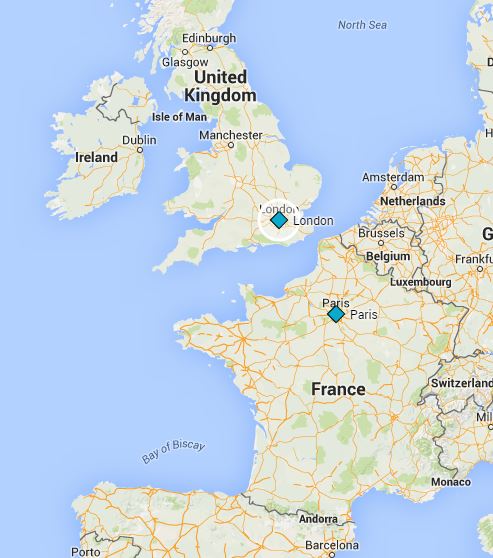 ---
Academic Program and Course Information
Paris: Art Without Limits
ART 4814-402 (undergraduate level)
6811-402 (graduate level)
3 art studio credits
Instructor: Ezra Johnson

In Search of French Identity through the Visual Culture of Paris
ARH 4890-402 (3 credits)
ARH 6891-402 (4 credits, graduate level)
Instructor: Patrice Boyer

Sites of Invention: Monumental Paris
ARH 4890-401
3 art history credits
Instructor: Anne Jeffrey

Art and Culture of the Ile de France (and beyond)
ART 4905-401 (1 credit)
Instructor: Lou Marcus

Optional Excursion to London (June 30 - July 6, 2016)
ART 4940-401 (undergraduate)
ART 6940-401 or ARH 6055-401 (graduate)
1-2 credits
Instructor: Wallace Wilson

For more information about courses, visit the School of Art and Art History website.
---
Faculty
Lou Marcus is the program director and will serve as on-site coordinator. He is a Professor of Art at USF where he teaches courses on photography and the history of photography and visual culture. He initiated the Paris program and has directed it since 1987. His work has been exhibited widely and is in numerous public and private collections including that of the Bibliothèque Nationale. He has led numerous groups of students to Paris, has completed four artist-in-residencies at Cité Internationale des Arts, Paris and is a part-time resident of the city.

Wallace Wilson has been chair of the School of Art and Art History at the University of South Florida since 1994, bringing more than 25 years of art teaching, administration and practice to his current position. His photographic artworks have been exhibited and collected widely both in the U.S. and abroad. He has taught at the University of Kentucky, the University of Delaware, the University of Florida, the University of Gothenburg (Sweden) and the London Study Center of Florida State University.

Ezra Johnson is an assistant professor of painting and drawing at USF. His teaching philosophy encourages students to find a direct approach to creativity through balancing their own personal life experience with a knowledge of historical context. Johnson has exhibited his work in the US and Europe in prestigious galleries and museums such as ICA in Philadelphia, Freight & Volume in New York, The Hammer Museum in LA and New Gallery in Paris.

Patrice Boyer has taught art history for the Tampa and St. Petersburg campuses of the University of South Florida since 2008 including History of Visual Art I & II, 19th Century Art History, Renaissance Art, Greek and Roman Art, and Introduction to Art. She is currently a doctoral candidate at the University of Florida, studying eighteenth-century French art and architecture with a focus on the fashioning of identity and gender in eighteenth and nineteenth century France.

Anne Jeffrey (M.A., U.S.F.) has taught art history for the Tampa, St. Petersburg and Sarasota campuses of the University of South Florida since 2001 including 19th Century Art History, 20th Century Art History, Contemporary Issues in Art and Introduction to Art. This will be the tenth summer she has taught an art history course in Paris for this program.

Mary Ann Becker is the on-site program assistant. She earned her Master of Fine Arts degree from the University of Colorado. She is an active artist whose work has been exhibited regionally and nationally. She has provided assistance to the program since its inception, sharing with students her strong knowledge of the city, its culture and history.
---
Program Costs
Students who have started an application will be notified immediately by email when the fees are announced.

Paris:
TBA for undergraduate students

TBA for graduate students
Included features for the 2016 Paris program:
Optional Excursion to London:*
TBA for undergraduate students

TBA for graduate students
*For students participating in the excursion only: TBA for undergrad, TBA for graduates
The optional excursion to London includes:
Variable Program Costs (not included in the program fee):
Please note
: when reviewing the attached budget sheet, you will need to include the Program Cost for your selected portion of this opportunity. The budget sheets are meant to serve as estimates for the overall program costs, and students should include the cost of a Passport and/or visa if needed.
2016 Payment Schedule

A $500.00 non-refundable deposit is due by late January 2016

Paris Only
Date Amount Due
March 1: 25% due
April 1: 75% due
May 1: 100% due

Paris and Optional Excursion to London
Date Amount Due
March 1: 25% due
April 1: 75% due
May 1: 100% due

Excursion Only
Date Amount Due
April 1: 75% due
May 1: 100% due

Post-Commitment Cancellation Policy:
You are liable for $100 plus non-recoverable program costs if you cancel at least 91 days prior to departure.*

You are liable for $300 plus non-recoverable program costs if you cancel 61 to 90 days prior to departure.*

You are liable for up to 100% of the program fee if you cancel 60 days or less prior to departure.*
*Education Abroad will assess on a case-by-case basis the non-recoverable costs of the program for which the student is liable.
Return to top
---
Living Arrangements
Our students are housed at centrally-located university residences, including our principal residence, the Cite Universitaire de Paris (CIUP) in the 14th arrondissement, the Foyer International des Etudiantes, (FIE) 93 blvd. St. Michel in the 5th arrondisement, and the Foyer Tolbiac (TOLBIAC), 234 rue de Tolbiac in the 13th arrondisement Instructors are housed at the Foyer International des Etudiantes which is also the location of classrooms. All residences are conveniently connected by bus and RER are no more than 15-20 minutes away from each other. The residences are equipped with a with a full range of amenities including a small kitchen on every floor, a solarium, classrooms, television, laundry facilities, outdoor terraces and internet connectivity. The rooms are clean and each is equipped with a small refrigerator and sink. There is 24-hour security at the front desk. These residences do not resemble, however, an American-style hotel. Showers and toilets are down the hall. Phones in the rooms at the Cité Universitaire residence can be used for outgoing calls but students at the FIE and Foyer Tolbiac can receive incoming calls only. There is a lockout at the FIE from 1:30 a.m. - 6 a.m. daily, except Friday and Saturday when the foyer remains open all night. The other residences have no lockout. Single rooms with private bathroom and shower are available for a surcharge (see "fees"). Every effort will be made to accommodate student preferences for their housing assignment. Since art activities will emphasize the use of accessible methods and materials (such as photography, xerox, collage, found objects and performance), studio art facilities are neither needed nor provided.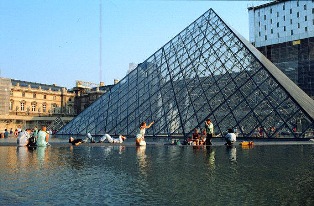 ---
Who Can Participate?
Students need not be art majors to enroll, but a foundation-level course in studio art for the art course or an introductory art history course for the art history course or equivalent background and good academic standing are required as minimum prerequisites.
Since daily activities will involve considerable amounts of walking and stair climbing, students should be in reasonably good physical condition. The most important prerequisite is a desire to learn from the course activities and projects as well as from the immersion in a different culture and language. An adventurous spirit and sense of humor will also be helpful to the students' overall participation in this program.
Overview of Eligibility requirements:
Sophomore, Junior, Senior or Graduate student status.
(Student must have completed a minimum of two full-time semesters at the university level by June 1)

Non-degree seeking students may apply.

A minimum G.P.A. of 3.0 in your major and an overall G.P.A. of 2.75.

Minimum course prerequisites as listed in the course descriptions or their equivalents.

Note: USF School of Art and Art History graduate students are assured acceptance into the program but must still file a graduate application (see below). (Recommendations and transcripts are not required of School of Art and Art History graduate students.)
---
How to Apply
If you are not a USF student, you will need to apply to USF as a non-degree seeking student before you can complete the online application for this program. Please see the "Non-USF Students" section of the How to Apply page for instructions.
Applicants are encouraged to submit their online application as early as possible. Please read the following carefully so that you understand how you can best secure for yourself a place in the program.
Applications will be processed as they are received and students who are accepted into the program will have a place reserved for them in the program until the enrollment limit is reached.

Students who are accepted into the program after the enrollment limit is reached will be placed on a waiting list. After the deposit deadline, any reserved spaces in the program that become available will be given to wait-listed students, who will be required to submit the deposit immediately in order to secure that space.
Application instructions:
Read all of the information about the program posted on this website carefully: especially regarding courses and fees.
Paris Art Program Specific Website: http://usfinparis.arts.usf.edu
Contact the Program Coordinator or Program Director with any questions - contact details included at the bottom of this page.
Return to top
---
How and When to Pay
Please click here for further details regarding payment.
Return to top
---
Getting There
Air travel is not included in the program fee. Students will arrange their own air travel and make their way to the residence based upon clear instructions from the program director. The residences can easily be reached by RER train from either Charles de Gaulle or Orly airports (RER ticket included in the program fee) or by taxi (cost: approximately $100.00). Students should not purchase their air ticket until they been accepted into the program and have consulted with the program director. A Paris Navigo pass will provided to each student which provides unlimited use of the Paris metro, bus and tram systems for the month of June within metropolitan Paris and unlimited weekend travel in the Ile de France region surrounding Paris. Round-trip travel by either train or chartered bus is included for all group excursions outside of the city.


Return to top
---
Medical Insurance
All participants must be in possession of a valid U.S. Passport, or a valid passport from their country of residence. It is the responsibility of non-U.S. program participants to learn visa requirements and obtain their visa before travel.
USF provides program participants with sickness/accident and emergency medical evacuation insurance valid for the dates of the program. Those who will travel independently, either in advance of the program or after the program ends, must ensure that they have insurance coverage valid outside the U.S.
Please click here for more detailed information.
You may find it helpful to research obtaining an International Student Identification Card (ISIC card), which also includes a limited traveler's health insurance coverage. Further information is available at http://www.myisic.com/isic-card.html
Return to top
---
Travel Documentation
U.S. citizens going to France on this program need a

passport valid for 6 months at entry and 3 months beyond the last planned date of travel

(Last Updated: July 2015). For more information, see the Department of State website for the France.

U.S. citizens going to the U.K. on this program need a passport valid for the duration of travel (Last Updated: July 2015). For more information, see the Department of State website for the U.K.

Non U.S. citizens are responsible for inquiring about passport validity and visa requirements.

Return to top
---
Safety & Health
Participant's safety and well-being are paramount to USF. Please click here for detailed country-specific safety and health information given in our Country Study Report. Make sure to read up on country-specific information on the U.S. Department of State and Centers for Disease Control and Prevention websites.
There are currently no required vaccinations for travelers to Paris, however you are encouraged to speak with your regular physician about your program and any risks it may involve. Those with health concerns or special requirements shoulddiscuss this with the Education Abroad Office and Program Director.
Country Information
US Department of State, country-specific information:
http://travel.state.gov/travel/travel_1744.html
Preparing for your trip:
http://studentsabroad.state.gov/html-site/StudentAbroadHome.html
Common Crimes in Paris
U.S. citizens in France should be particularly alert to pickpockets in airports, train stations, and subways. Travelers should keep photocopies of travel documents and credit cards separate from the originals, along with key telephone numbers to contact banks for credit card replacement.
Thieves operate in the airports and on the RER rail link from Charles de Gaulle Airport to Paris, where they prey on jet-lagged, luggage-burdened tourists. In one common ruse, a thief distracts a tourist with a question about directions while an accomplice steals a momentarily unguarded backpack, briefcase, or purse. Thieves also time their thefts to coincide with train stops so they may quickly exit the car just before the automatic doors close. Travelers should consider taking an airport shuttle bus or taxi from the airport into the city. Use only the official taxi stop. Reports of stolen purses, briefcases, and carry-on bags at Charles de Gaulle Airport are also common. Travelers should monitor their bags at all times and never leave them unattended. As thieves commonly target laptop bags, travelers should avoid carrying passports and other valuables in computer bags. Another common method involves picking up a traveler's shoulder bag that has been placed on the floor while the traveler is busy at the ticket or money exchange counter.
Pickpockets are especially active on this métro line during the summer months and use a number of techniques. The most common is the simple "bump and snatch," where an individual bumps into the tourist while at the same time reaching into the pockets/purse/bag. Be particularly careful when métro doors are closing, as this is when less-sophisticated pickpockets simply grab valuables and jump through the closing doors, leaving the victim helplessly watching as the thief flees. You should NOT confront thieves aggressively; they often operate in groups and may become violent if cornered. Simply drawing attention to an attempted theft will most likely stop the operation and cause the thief to retreat.
Many U.S. citizens have had purses or bags stolen from the back of a chair or from under the table while in restaurants and nightclubs/bars. Again, keep your valuables with you and do not leave them unattended or out of your sight. Thefts also occur at the major department stores where tourists often place wallets, passports, and credit cards on cashier counters during transactions.
Automated Teller Machines (ATMs) are common in France and provide ready access to cash. Don't use ATMs in isolated, poorly lighted areas or where loiterers are present. Be especially aware of persons standing close enough to see the Personal Identification Number (PIN) being entered into the machine. Thieves often conduct successful scams by simply watching the PIN as it is entered and then stealing the card from the user in some other location. If the card gets stuck in the machine, you should immediately report it to the bank where the machine is located.
The Paris Police Prefecture publishes a pamphlet entitled "Paris in Complete Safety" that provides practical advice and useful telephone numbers for visitors.
Return to top
---
Financial Aid and Scholarship Funding
Many funding opportunities are available to USF students who are planning to study abroad. Please see our funding page for further details.
Return to top
---
Special Terms
Students should review carefully the Education Abroad Participant Contract, included in the Education Abroad application process.It describes students' responsibilities with regard to participation, and includes information on insurance, and cancellation and refund policies. Students will be asked to electronicallysign this document. To view this document before applying, please click here.
Return to top
---
Contacts for More Information
See here for FAQ: http://art.arts.usf.edu/content/templates/?a=2153&z=33" target="_blank"
Paris Links and Resources: http://art.arts.usf.edu/content/templates/?a=2156&z=33
Program Director: Professor Lou Marcus
Email: marcus@arts.usf.edu
Krissy Loveman
Education Abroad Advisor
USF Education Abroad
Phone: (813) 974-8983
Email: kloveman@usf.edu

Return to top