University of South Florida
This page is the brochure for your selected program. You can view the provided information for this program on this page and click on the available buttons for additional options.
Prague, Czech Republic
(Outgoing Program)
Program Terms:
Summer

Eligibility:
Please see below for requirements.
Budget Sheets:
Summer

There are currently no active application cycles for this program.
---
Program Overview
European Study Abroad Center (ESAC), will conduct a 4-week program offering multi-discipilinary courses, which have been pre-approved by USF as transfer credit. USF students have greatly enjoyed their experiences on this program which include academic courses as well as internships.
Prague, the political and cultural capital of the Czech Republic, is one Europe's most beautiful and photographed cities and has been designated a UN World Heritage Site. Winding around the Vltava River, Prague is surrounded by rolling hills with breathtaking examples of Medieval, Gothic and Baroque architecture.

In the 20th century, Prague was occupied by the Nazis in World War II, and was under Communist rule until the Velvet Revolution in 1989 when it became a democratic nation. Since 2004, the Czech Republic has been a member of the European Union, and is now considered to be one of the most successful of the Eastern European countries to join.
---
Location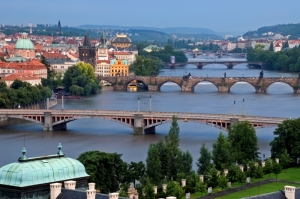 In the 20th century, Prague was occupied by the Nazis in World War II, and was under Communist rule until the Velvet Revolution in 1989 when it became a democratic nation. Since 2004, the Czech Republic has been a member of the European Union, and is now considered to be one of the most successful of the Eastern European countries to join.
---
Host Institution
Organized in conjunction with ESAC (European Study Abroad Center) at the University of Economics in Prague. USF in Prague participants will share in many of the activities and services that the European Study Abroad Center will be offering in its Prague program. The Czech language and cultural offerings, site visits, excursions, student and staff support will be provided through ESAC.

For more information, please see additional details:
http://www.goesac.com/


Return to top
---
Academic Program and Course Information
Students will be required to attend a Czech language and culture offering which provides some survival language and culture skills. There is no credit attached to this course. The following courses will be offered in the summer 2015 term:

Courses being offered include:

International Marketing: Consumer Behavior
Global Marketing (equates to USF MAR 4156)
International Business (equates to USF MAN 4600)
Global Leadership (equates to USF LDR 3930)

Other Courses Avaialble but not yet equated:
Global Meetings and Exhibitions
Sports and Event Management
Central European History
Jewish Studies


Credit Type
Students enrolled in this program will receive transfer credit.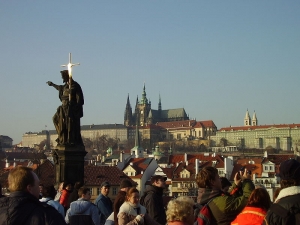 ---
Faculty
All courses will be taught by faculty from ESAC.
---
Program Costs
Total Program Cost: $3,750.00

Payable to ESAC - $3750.00
Payable to USF - $425.00

*Extra fee for Vienna weekend, $550.00
*Extra fee for Cesky Krumlov weekend trip, $125.00 (Cesky Krumlov known as the most beautiful city in the Czech Republic.)

Please see details under the "How and When to Pay" section.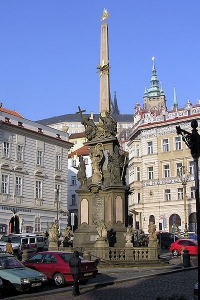 Includes:
Pre-departure orientations and materials
Accommodation (Double Occupancy)
Most breakfasts and lunches (note: M-F both breakfast and lunch will be available to students at the University of Economics)
Cultural Program and Excursions
6 transfer credits
Czech culture and survival language sessions in-country
International Emergency Medical Insurance
Airport transfers in Prague
Prague transportation pass
24-hour emergency staff and support
USF Study Abroad T-shirt

Not Included:
International Airfare $1350-1800
Passport ($165)
Basic Food Budget ($300-500)
Total non-billable: $1815-$2315
Personal Spending (varies greatly depending on personal travel, entrtainment, gifts etc.) Most students will spend $1200-1500 for the month in-country, allowing for limited travel, cell phone usage, restaurant dining and other entertainment.
---
Living Arrangements
Housing for this term is located in the residential neighborhood of Zizkov, in a recently renovated building, close to public transportation. Travel time from the dorms to the classroom is about 20 minutes using public transportation. There are numerous shops, restaurants and pubs nearby.
---
Who Can Participate?
The program is open to anyone 18 years of age or older with an interest in Global Leadership and the Politics, Business, History, and Culture of Prague and the Czech Republic.
---
How and When to Pay
Please note that payment of the $3750.00 portion of the Total Program Cost will be made directly to ESAC.

Payment of the $425.00 cost to USF will be made via each student's USF OASIS account, and must be paid within 5 business days of the participant's official "Committment" to the program.

Following your application with the Education Abroad Office, you must also complete an official application and registration must also be completed with ESAC, via the following instructions:

1) Go to: http://www.goesac.com/application.htm and complete the application form.
2) Send in $100 PayPal deposit with application.
3) Complete our supplemental information form and Participation Agreement, which I will send them along with a formal acceptance letter.
4) Full payment due to ESAC on April 15, 2015.
5) Students then should await further instructions from ESAC, regarding booking flights, arrival information, full schedule, and additional program details.
Please click here for further details regarding payment.
---
Getting There
International Airfare is not included in the cost of the program. Students should not purchase their airfare until the Education Abroad office has informed you.

Return to top
---
Medical Insurance and Travel Documentation
USF provides program participants with sickness/accident and emergency medical evacuation insurance valid for the dates of the program. Those who will travel independently, either in advance of the program or after the program ends, must ensure that they have insurance coverage valid outside the U.S.
Please click here for more detailed information.
---
Financial Aid and Scholarship Funding
Many funding opportunities are available to USF students who are planning to study abroad. Please see our funding page for further details.
---
Safety & Health
Participant's safety and well-being are paramount to USF. Please click here for detailed country-specific safety and health information given in our Country Study Report. Make sure to read up on country-specific information on the U.S. Department of State and Centers for Disease Control and Prevention websites.
Personal Safety:
While no country is free from the threat of terrorist attack, Currently the US State Department website indicates, "The Czech Republic remains largely free of terrorist incidents."
On public transportation, near train stations and tourist sites in Prague, pick-pocketing can happen. Students should always remain aware of their surroundings and their belongings, and should not draw particular attention to themselves -- tourists in any area are easy targets. Excessive drinking is the leading cause of life-threatening instances and emergencies abroad. Additional information will be provided to registered participants, but we encourage you to consult the following websites as soon as possible.
Health and Fitness Requirements:
The majority of USF's study abroad programs involve a great deal of walking, and in some cases hiking and trekking. The program is a largely resident-based program. Nevertheless, students will be required to climb stairs, and walk a great deal, even if taking public transportation. If you have any concerns regarding your health (mental or physical), please consult your doctor, and the staff of Education Abroad prior to the program!
Generally, the climate in Prague in July/early August is generally warm -- mid to upper 80s, but cool 60s in the evening. Occasionally, temperatures may spike into the 90s, which can make it uncomfortable as air-conditioning is not readily available in Prague and is not available in the residence halls.
---
Special Terms
Students should review carefully the Education Abroad Participant Contract, included in the Education Abroad application process. It describes students' responsibilities with regard to participation, and includes information on insurance, and cancellation and refund policies. Students will be asked to electronically sign this document. To view this document before applying, please click here.
---
Contacts for More Information
For General Information or questions regarding program enrollment and payment, please contact:

Masai Shakong, Education Abroad Advisor
USF Education Abroad Office
(813) 974-9024
Email: masai@usf.edu

CGS 101 (Patel Center, across from the Sun Dome and College of Business on Maple Drive)